LED Commercial Recessed Downlights are designed to fit most 4-inch, 5-inch, 6-inch, 8-inch and 10-inch commercial and architectural LED recessed downlights. The new high-performance specification-grade architectural downlights meet the specific needs of commercial, industrial and institutional buildings. 
All LED Recessed Can Lights feature low-energy, low maintenance, low-heat, long-life operation, and provide significant savings on electricity, maintenance costs and air conditioning uses. High-quality, value-driven recessed downlighting offers high-efficiency performance for architectural lighting in Corporate Campus Lighting, Retail & Grocery Lighting, Restaurant & Hotel Lighting, Government Facilities Lighting, and Education Facilities Lighting.
LED Recessed Can Lights easily convert nearly any existing 4″ to 10″ housing to the latest and most advanced technology. Looking to replace your inefficient downlights with LED Recessed Lights? Call for pricing today toll-free 1-844-LED PROS (1-844-533-7767)
LED Commercial Recessed Downlights

LED Commercial Recessed Downlights by Rouge

featuring adjustable Wattage and multiple color temperature options; Ideal for new construction; applications. 0-10V dimming standard; Meets state of California title 24 requirement, available in 4″ 6″ 8″ and 10″ Prices start at $

 
 

LED Commercial Recessed Downlights 6″ by Ledsion

features a detachable junction box; 70º beam angle, Dimmable; Damp rated; up to 1640 lumens at 20W; Recessed mounting; Energy Star rated; available in 10/15/20W; Prices start at $

 
 

LED Recessed Can Lights 8″ by Ledsion

features a detachable junction box; 70º beam angle, Dimmable; Damp rated; up to 2400 lumens at 20W; Recessed mounting; Energy Star rated; available in 10/15/20W; Prices start at $

 
 

LED Recessed Can Lights 8″

Commercial Architectural Downlight features High Output LEDs; applications include Atrium & Lobby Lighting, Mall Lighting, Showroom Lighting, Canopy Lighting, Soffit Lighting; Adjustable; White Finish; Available in 12/20/30W. Prices start at $

 
 

LED Recessed Can Lights 6″ 

The adjustable housing clips allow for installation in a large range of commercial and architectural housings ranging from 7.6''-9.4'' (195-240mm). These spring-action clips push up easily and fit securely for both retrofit and new construction installations; White Finish; Available in 10/15/25W. Prices start at $

 
 
Commercial recessed lights, LED can lights, and retrofit downlights in commercial buildings are important fixtures that light up different spaces. These lighting solutions offer numerous benefits and are becoming increasingly popular in commercial settings.
First and foremost, commercial recessed downlights provide a sleek and modern lighting option. With their recessed design, these lights blend seamlessly into the ceiling, creating a clean and uncluttered look. This aesthetic appeal makes them perfect for a wide range of commercial applications, including offices, retail stores, hotels, and restaurants.
One of the key advantages of LED recessed can lights is their energy efficiency. LED technology has revolutionized the lighting industry by offering highly efficient and long-lasting illumination. These lights consume significantly less energy than traditional lighting options, resulting in lower electricity bills for commercial building owners and operators. Additionally, LED recessed can lights have an impressive lifespan, which reduces maintenance and replacement costs.
Moreover, architectural downlights provide a cost-effective solution for upgrading existing lighting systems in commercial buildings. These downlights are designed to fit into existing recessed housings, making them easy to install and replace. By upgrading old fixtures with new LED downlights, commercial buildings can have better lighting and save energy without major renovations.
In terms of performance, architectural downlights offer versatile lighting options. They come in different beam angles, color temperatures, and dimming abilities, helping businesses create the desired atmosphere and meet lighting needs. Whether it's task lighting in an office space or accent lighting in a retail store, these downlights can be tailored to suit different commercial environments.
Furthermore, these lighting solutions contribute to a more comfortable and productive work environment. Recessed downlights give even light, reducing glare and shadows, making it comfortable for employees and customers to see. This improved lighting quality can enhance productivity levels and create a more welcoming atmosphere in commercial spaces.
Lastly, commercial downlighting are environmentally friendly options. LED technology is known for its low carbon footprint and absence of hazardous materials such as mercury. By choosing these lighting solutions, commercial building owners can contribute to a greener and more sustainable future.
In conclusion, Commercial-Grade LED recessed lighting are valuable lighting fixtures for commercial buildings. Their sleek design, energy efficiency, versatility, support all design build contractor and consulting engineer requirements.
Things To Know About LED Commercial Recessed Downlights
Purpose:
Recessed downlights are built into the ceiling to provide a bright and evenly distributed light source. They can be used to illuminate specific areas without the need for additional fixtures, making them a popular choice in commercial applications, such as offices, restaurants, and stores.
Types of Commercial Applications:
LED Recessed Lighting is often used in office buildings, retail stores, restaurants, and other commercial spaces. They can be used to provide a bright light source for work or display areas. They are also often used as accent lighting to add visual interest in areas such as lobbies and hallways. see Why Use Commercial Industrial Lighting for Your Commercial Buildings?
Installation:
Recessed downlights are typically installed by an electrician or contractor. The light fixtures are typically mounted inside the ceiling, and the wiring is connected to a junction box. Special tools may be needed to cut the hole in the ceiling for the light fixture to fit inside.
Features:
Many commercial recessed downlights are available with a variety of features. Some lights feature dimming capabilities, adjustable beam angles, and even color-temperature controls. Additionally, some are designed to integrate with other lighting control systems, such as automation systems, to provide users with more control over lighting in their commercial space.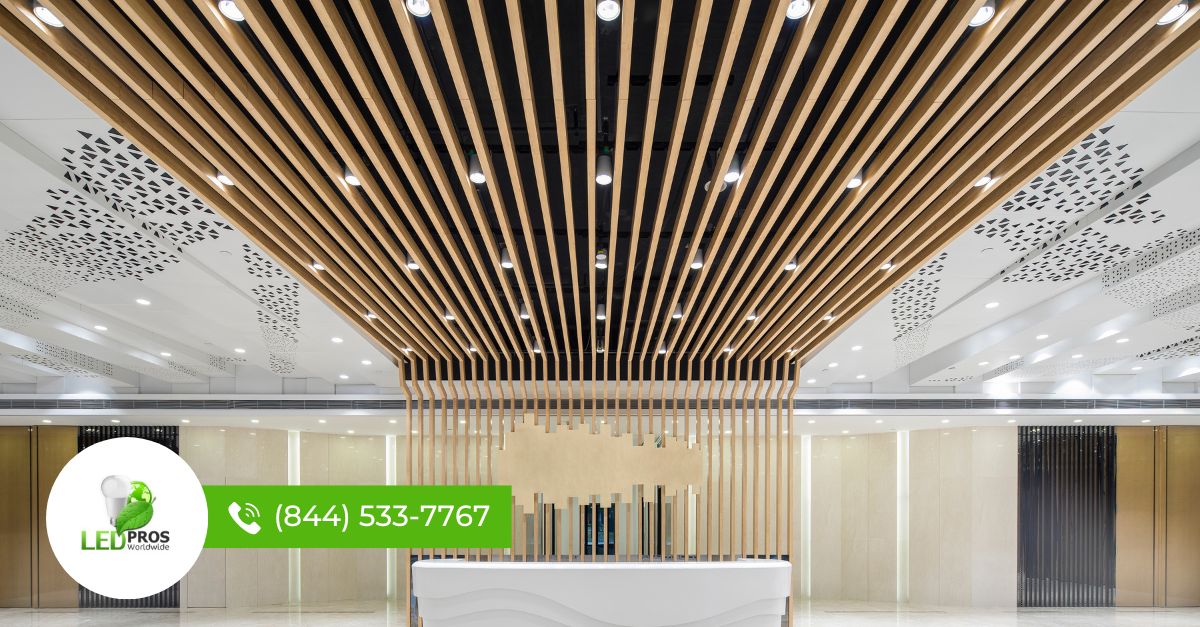 Why LED Pros Worldwide? Our main website, Industrial Lighting Fixtures is the marketplace for all commercial and residential LED lighting fixtures. You can use the products in various applications. Whether you want to install them in factories, manufacturing plants, or in your courtyard, our products can be of help. You may request a free quote by calling us here at (844) 533-7767.
By Steven Wilson – First Published on: April 03,2015
Buy Direct and Save $$$ – All of our lighting fixtures ship factory direct to your facility. Call sales toll-free (1-844-533-7767)