Cold Storage Lighting is designed to be kept to specific ranges of cold temperatures. Traditional lights such as T5/HO fluorescent lamps and HID, HPS produces heat so there is an imbalance with hot lights operating within a cold space. The performance of LED Cold Storage Lights increases as operating temperatures drop, thus making LED Tri-Proof fixtures an ideal fit for commercial frozen storage and freezer environments. For cooler door and freezer door lighting, we offer LED refrigerated display lighting.
What are the lighting solutions for cold storage environments?
LED cold storage lights provide over 75,000 maintenance-free hours and up to 15 years of maintenance-free operation in a minus 40 degree Celsius refrigerated warehouse — useful in this application where traditional lamp replacement would otherwise be laborious and expensive due to high ceilings. see Find a Source for Industrial Lighting Products
Other benefits besides reduced maintenance costs and fewer downtime incidents with long-life sources. Operators can expect improved employee efficiency, accuracy, and morale by providing the right quality and quantity of light and significantly reducing refrigeration loads and chiller maintenance savings.
LED Industrial lighting fixtures can be frequently cycled on/off without impacting the longevity of the lamp source or fixture; instantly returns to full intensity when activated, even in -40F chillers, and generates minimal heat compared to fluorescent or HID fixtures. Looking to replace your old, inefficient lighting with LED freezer storage lights? Call for special pricing today toll-free 1-844-LED PROS (1-844-533-7767)
Cold Storage Lighting

Freezer Room Lighting-4 Bay

Modules rotate up to 200 degrees; cold storage lighting requirements are an Operating Temperature of -40C ~55C; up to 76,800 lumens; Available in 100/150/200/240/300/400/480W. Prices start at $.

 
 

Cold Storage Freezer Fixtures-FY

NSF Linear High Bay Covers 3 Certifiable Zones-Food Zone, Splash Zone, Non-Food Zone; Tri-Proof; Ratings: NEMA4X, IP69K, NSF, 1500 PSI Hose Down, 3 lengths – 17/22/32 inches; Operating Temp: -40C to 55C; UL, CE, DLC; available in 80/120/160/200/300W. Prices start at $

 
 

Frozen Storage Lighting-Atlas

NSF Industrial LED Linear Wet Location; Tri-Proof; Ratings: NEMA4X, IP65, IP66 & IP67, IP69K (2ft only), NSF, 1500 PSI Hose Down, UL, cUL, DLC; 2ft and 4ft; Made in USA; available in 76/98/130/190W. Prices start at $

 
 

Freezer Room Lighting-Altech

the premium replacement for all your existing HID and Fluorescent High Bay cold storage lights; Operating Temp. -40° F to 150° F; Certification UL, DLC 4.2, FCC, CE, RoHS; Dimmable with motion sensor optional; Waterproof High Bay with glass lens, mounting hook and 4′ whip up to 54,400 lumens at 320W; 10 Year Warranty; available in 100W/150W/240W/320W. Prices start at $268. LED Pros Choice

 
 

Cold Storage Lights-Halo-F

NSF Certified LED Lighting, high-pressure, water-resistant, steam resistant; developed to meet the needs of the food processing and pharmaceutical industries, Operating Temp: -40C ~55C; IP69K up to 38,400 lumens @ 240W; available in 50/80/100/150/200/240W; Prices start at $

 
 

Freezer Room Lighting-VT4S

LED Vapor Tight 4ft by Altech; Features high efficient Phillips Lumileds LEDs; Operating temperatures: -40°C to +130°C; IP67 rated, waterproof, dustproof; 6780 Lumens@60W; 5000k; DLC listed for Utility rebates; Available in 40/60W. Prices start at $. 

 
 

Sub-Zero Warehouse Lights-TP

Tri-Proof  4ft by Ledsion; Water-proof, Dust-proof, Damp-proof, Pressure-proof; -30°C to +60°C; IP65; Can be connected in a series; 180-degree beam angle; 5000LM @ 50W; 5000K; Certificates: UL, CUL, CE, DLC listed for Utility rebates; Prices start at $225  

 
 

Sub Zero Storage Lights-Daisy14

LED Vapor Tight 4ft by Crystal; Great for food processing facilities, features highly efficient Phillips Lumileds LEDs; Operating temperatures: -30°C to +60°C; IP67 rated, waterproof, dustproof; 5545lm @ 56W; 5000k; DLC listed for Utility rebates; Made in USA; Available in 40W, 56W. Prices start at $. 

 
 
Cold Storage Lighting is designed to operate in certain temperature ranges that are optimal for the specific equipment. Generally, temperatures should not exceed 40°F (4°C) or dip below -20°F (-29°C). The use of cold storage fixtures also requires the use of a temperature-controlled environment. This is necessary to ensure the longevity and performance of the lighting system. Cold temperatures can reduce the potential for electrical shocks and minimize the risk of fire hazards.
Frozen storage lighting fixtures are designed to be energy efficient and produce a high quality of light. Lighting that is designed specifically for cold storage applications can be used in places such as storage warehouses, freezers, and cold rooms. These lighting fixtures are also suitable for outdoor areas which may require a lower temperature environment. Frozen storage lighting fixtures are typically available in LED or fluorescent technologies.
LED lighting fixtures are highly efficient and generate high quality illumination. LED lighting is also known to generate a low amount of heat and is more durable than other lighting sources. LED lights are suitable for cold storage applications due to their low temperature operation and lower energy consumption.
Fluorescent lighting technologies are also suitable for cold storage applications. Fluorescent lighting fixtures can produce high levels of illumination and are also energy efficient. They are often used in frozen storage rooms and freezers to provide a bright and comfortable environment.
Freezer lighting fixtures should be chosen based on the specific temperature requirements or environment in which they will be used. They should also be chosen based on the lumens they produce and their energy efficiency. Choosing the right sub-zero storage lighting fixtures can ensure that the lighting system is efficient and effective in its purpose.
Finally, it is important to consider the type of controls necessary for the cold storage lighting system. Many cold storage lighting systems require specialized controls, such as motion sensors, timers, or dimmers. These controls help to conserve energy by only providing light to the area when it is needed. In addition, many cold storage lighting systems are designed to work with timers, allowing the lights to be turned on or off at predetermined times.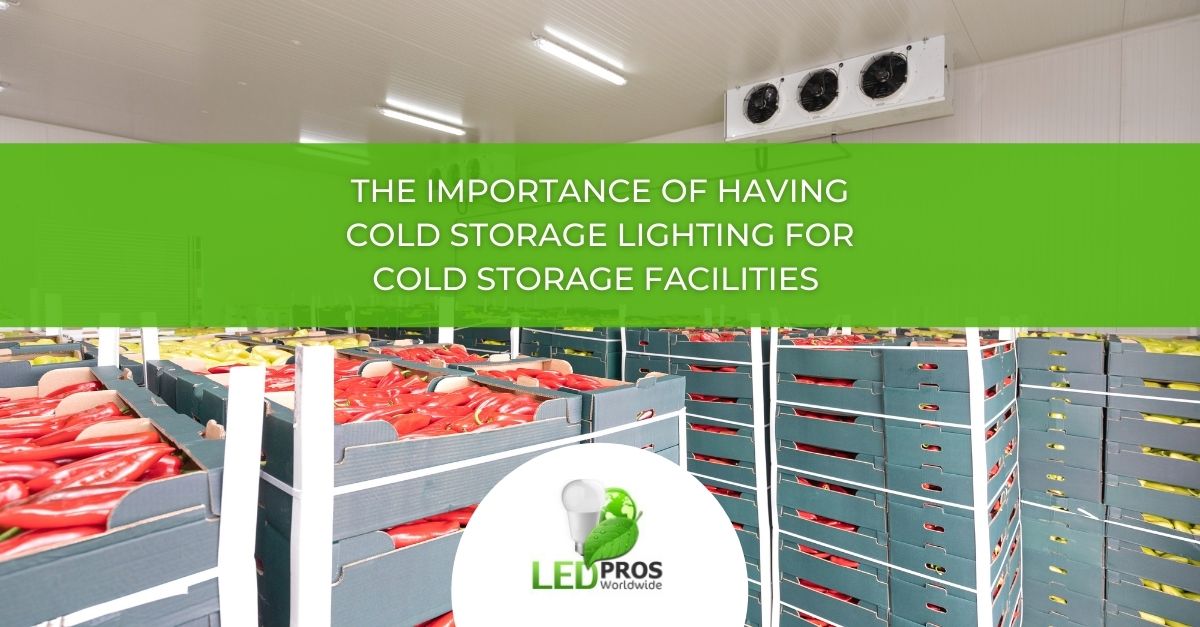 FAQs About Cold Storage Lighting
Cold storage lighting presents a unique challenge for facility managers. Unlike traditional office buildings, cold storage areas require a special type of lighting system that can operate in extremely cold temperatures. Here are some frequently asked questions about frozen storage lighting:
Q1: What types of lighting are available for cold storage areas?
A1: There are several types of lighting that can be used in frozen storage areas, including fluorescent, high intensity discharge (HID), and LED lighting. Fluorescent lighting is often the most cost-effective option for freezers, while HID and LED lights provide more powerful, longer-lasting illumination. LEDs are the most energy-efficient option, but they can be more expensive than other types of lighting. It is important to keep in mind that different types of lighting may require special fixtures and wiring in order to work in a cold storage area.
Q2: What challenges does frozen storage lighting present?
A2: Cold storage lighting presents several challenges, including the need for lighting fixtures and wiring that can withstand extremely cold temperatures. The fixtures must also be able to protect any electrical components from the cold. There are also challenges with getting the lighting to the desired level of brightness and keeping it consistent throughout the cold storage area. Additionally, many sub-zero storage facilities also require lighting that is "white" or "daylight" in color—this type of lighting is generally more expensive than other types of lighting and may require more advanced fixtures and wiring.
Q3: What safety considerations should be taken into account when selecting frozen storage lighting?
A3: Freezer lighting must meet all applicable safety codes, and should be certified for extreme cold temperatures
Q4: What is the operating temperature of cold storage LED lights?A4: Ideally, lighting fixtures in a sub-zero storage freezer operate at -40C to 55C
The Importance of Having Cold Storage Lighting for Cold Storage Facilities
Why LED Pros Worldwide?
Our main website, Industrial Lighting Fixtures is the marketplace for all commercial and residential LED lighting fixtures. You can use the products in various applications. Whether you want to install them in factories, manufacturing plants, or in your courtyard, our products can be of help. You may request a free quote by calling us here at (844) 533-7767.
Buy Direct and Save $$$ – All of our lighting fixtures ship factory direct to your facility. Call sales toll-free (1-844-533-7767)