Mobile Solar LED Light Towers provide versatile temporary lighting. It's ideal for construction sites, airports, natural disasters, parking lots, events, roadwork, and mining operations. provides solar light fixtures for every application. Mobile light towers can be easily transported from location to location and are ideal for temporary outdoor lighting.
The fully integrated LED solar area light is designed for both residential and commercial areas, in two different lumen outputs: 4000 lumens and 6000 lumens. Mobile solar LED light towers provide superior quality light over a greater area. The integrated solar array, battery, and LED fixture simplify mounting, for fast and easy installation
Combining renewable energy with energy-efficient LEDs, the self-contained LED mobile light towers brighten your work zone with clean energy and pure light. Versatile, dependable, and a direct substitute for diesel and fuel-based portable towers. see LED Portable Work Lights
Lighting up a large area without a noisy engine or an external power supply. High-efficiency LED lights can be raised to 16 feet. These towers with LED lamps are compact and powerful – visually as bright, effective and compact as conventional diesel light towers.  Call for pricing today toll-free 1-844-LED PROS (1-844-533-7767)
Mobile Light Tower

Mobile Lighting Tower-Twinko

featuring removable double mast heads for storage; Aluminium mast, 4 sections, 16 ft max; 16-foot tower provides a wider range of illumination area; zero emission of greenhouse gases, clean, quiet, environmentally friendly, no generator emissions, a direct alternative to diesel light towers; see Shine A Light On Your Team's Workspace With the Best Construction Lights Price starts at $

 
 

LED Mobile Light Tower-Tempo

features 3 sections, 13ft max; a collapsed height of 7ft; eliminates trenching, cabling, electricity, and diesel fuel costs; easy to install and transport; Price starts at $

 
 
Mobile Solar Towers are portable solar light towers used for temporary outdoor lighting in different projects. These towers are versatile and can be used in many different places. Some examples include construction sites, airports, disasters, parking lots, events, roadwork, and mining.
One of the key advantages of mobile solar led light towers is their portability. These towers use solar panels to get power from the sun, instead of needing fuel or electricity like traditional light towers. They can be easily moved and installed anywhere without needing power or lots of wires. Mobile Solar Towers provide reliable and efficient lighting for remote construction sites and emergency situations.
In addition to their portability, Mobile Solar Towers are also environmentally friendly. By utilizing solar energy, these towers reduce the reliance on fossil fuels and minimize carbon emissions. This is especially important in today's world, where sustainability and environmental consciousness are becoming increasingly important. Choose Mobile Solar Towers for outdoor lighting to save on energy costs and help create a greener, more sustainable future.
Furthermore, Mobile Solar Towers are equipped with high-powered LED lights, ensuring bright and uniform illumination. These lights provide a wide coverage area, making them ideal for large-scale projects or events. Mobile Solar Towers provide bright lighting for construction sites, airports, and natural disasters. They are used to ensure safety and guide air traffic.
Another noteworthy feature of portable light towers is their durability and reliability. These towers are built to withstand harsh outdoor conditions, including extreme weather, vibrations, and rough terrain. They are made from high-quality materials that are resistant to corrosion and damage, ensuring their longevity and performance. With their robust construction, Mobile Solar Towers can withstand the demands of construction sites, mining operations, and other rugged environments.
When it comes to flexibility, mobile solar led light towers excel in providing customizable lighting solutions. They can be easily adjusted to meet specific lighting requirements, whether it's changing the angle of the lights or adjusting the height of the tower. This adaptability allows for efficient lighting in various scenarios, ensuring optimal visibility and safety.
In conclusion, Mobile Solar Towers are a game-changer in the field of outdoor lighting. Their portability, environmental friendliness, bright illumination, durability, and flexibility make them an ideal choice for a wide range of applications. Whether you are working on a construction site, organizing an event, are the lighting ideal solutions for your outdoor projects.
FAQs About Mobile Solar LED Light Towers
Mobile solar light towers are a great option for providing temporary lighting for construction sites, temporary events, emergency situations, and other outdoor activities. They can provide reliable light without the need for hard-wired electricity, making them a more cost-effective and environmentally friendly choice. They are easy to transport and quick to setup, allowing for more flexibility in planning and implementation.
Q1. What are mobile solar light towers?
A1. Mobile solar light towers are portable lighting systems that run entirely on solar power, using the energy from the sun to provide light in dark or difficult-to-reach areas. They typically consist of a metal frame, solar panels, a battery pack, and an LED lighting fixture. The solar panels capture and absorb energy from the sun, which is then stored in the battery pack and used to power the LED light fixture(s). see Solar Powered LED Lighting Systems
Q2. What are the benefits of using mobile solar light towers?
A2. Mobile solar light towers offer several great benefits. They are easy to set up and transport, making them a more flexible solution than hard-wired lighting systems. They can provide reliable light without needing to be connected to the electrical grid. They are also much more cost-effective and environmentally-friendly than other lighting solutions.
Q3. How much light do mobile solar light towers provide?
A3. The amount of light provided by a mobile solar light tower varies depending on the size and type of the tower. Generally, larger towers are capable of providing more light than smaller towers, but even small towers can provide enough light to cover a construction site or outdoor event.
Q4. Are mobile solar light towers suitable for permanent use?
A4. No, mobile solar light towers are designed for temporary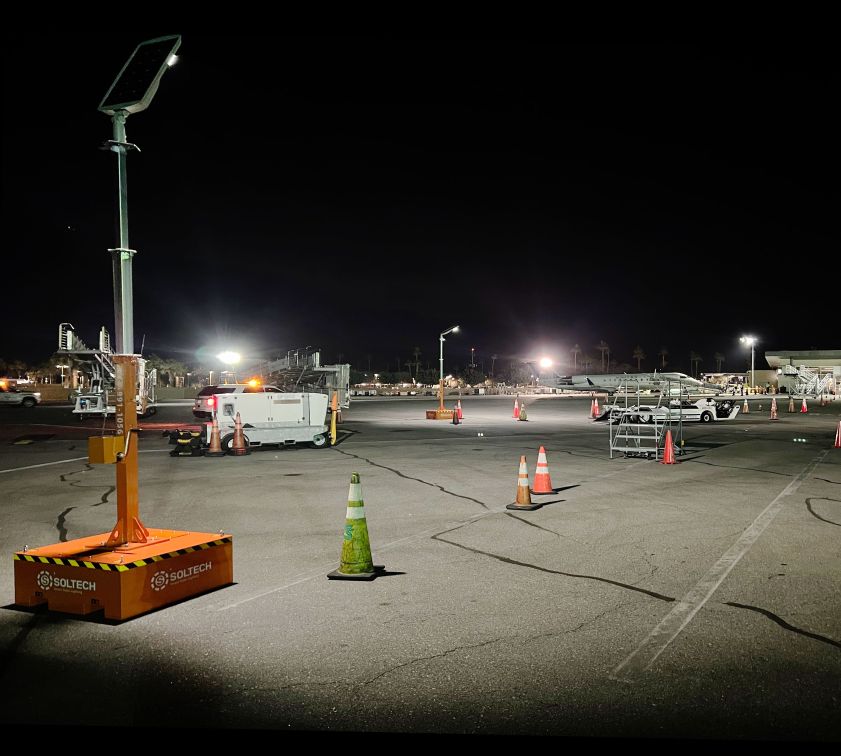 At LED Pros Worldwide we aim to make conditions safer for all involved. We have many industrial lighting fixtures that you can select from that meet or exceed the standards that exist today so that you can outfit your facility with whatever you may need. Look at the selection we have available on our website so you can see what fits your business the best.
We provide thorough descriptions and product specifications for you so you can understand what each fixture offers. If you have any questions or you would like a price quote or want to place an order with us, please call us toll-free at (844) 533-7767 and speak with one of our representatives. We will be glad to assist you and offer you any recommendations you may need so you get the safest lighting.
Buy Direct and Save $$$ – All of our lighting fixtures ship factory direct to your facility. Call sales toll-free (1-844-533-7767)