LED Drop Ceiling Lights are available as 2×2, 1×4 and 2×4 LED flat panels and make an excellent lighting solution for new construction or retrofit applications. LED ceiling lights feature a slim, state-of-the-art, low-profile design and are the ideal energy-efficient replacement for fluorescent fixtures in auto showrooms, office lights, retail spaces, schools, gymnasiums, hospitality, healthcare and other commercial and industrial applications. LED drop ceiling lighting panels and LED troffers are easily installed into most of the commonly used grid ceilings. Call for pricing today toll-free 1-844-LED PROS (1-844-533-7767)
Drop Ceiling Lighting 

LED Ceiling Lights-2×4 Tunable Troffers 

2×4 ceiling light troffers, tunable, with adjustable wattage and color temperature; Available in 34/38/45W; CCT 3500K/ 4000K/ 5000K; DLC, UL listed; up to 5,715 lumens;  Prices start at $

 
 

LED Drop Ceiling Lights-2×2 Tunable Troffers

2×2 ceiling light troffer, tunable, with adjustable wattage and color temperature; Available in 20/25/30W; CCT 3500K/ 4000K/ 5000K; DLC, UL listed; up to 3,750 lumens;  Prices start at $

 
 

Back-Lit Color Tunable and Wattage Selector Panels

Back-lit optics produces uniform light output, diffuser lens reduces glare and improves overall energy efficiency; 0-10V Dimming; DLC Listed; 2×2 and 2×4 fixtures; can be programmed with a CCT of 3500K, 4000K, or 5000K, up to 6,140 Lumens; Select wattage 40/50/55W. Prices start at $

 
 

LED Ceiling Lights-Duo Color and Power Switchable Flat Panels

DUO Color and Power Switchable Flat Panel; low profile 2×2 and 2×4 fixtures, lighting fixture; easily change and control light color outputs; Available in 15/20/25/30/35/40/48W; Prices start at $

 
 

LED Ceiling Lights-CCT & Power Tunable Back-lit Flat Panels 

Back-lit optics produces uniform light output, diffuser lens reduces glare and improves overall energy efficiency; 0-10V Dimming; DLC Listed; 2×2 and 2×4 fixtures can be programmed with a CCT of 3500K, 4000K, or 5000K, up to 6,450 Lumens; Select wattage 35/40/45/50W. Prices start at $

 
 

LED Edge Lit Flat Panels

recessed, installed on a surface mount or suspended from an open ceiling layout; Available in 20W, 30W, or 40W, depending on the ordered configuration; 1×4, 2×2, 2×4; Prices start at $

 
 

Toros Architecture Linear Fixtures

slim and discreet profile; 4 ft and 8 ft, and can be joined together in seamless runs of any length; Optimal Glare Control; Uniform Illumination; Direct and Indirect Light; Available in 33/66W; Prices start at $

 
 

Huron Linear Ceiling Fixtures

Light Lobbies, conference rooms, offices, recreation and dining areas are ideal; 2ft, 4ft, 8ft; Available in 20/40/84W; Prices start at $

 
 

LED Ceiling Lights – Wrap Linear Fixtures

features a low-profile, high-efficiency light; Ideal for schools, hospitals, offices, and workshops, available in 22W; Prices start at $

 
 

LED Wraparound Shop Lights

4' LED Eco-Slim Wraparound Field-Adjustable Luminaire; Slim 9" width; is wattage adjustable (30W/35W/40W) and color tunable (35K/40K/50K) and dimmable. Prices start at $

 
 

LED Panels Flush Mount Kits

for surface mount and flush mount ceilings, we offer flush mount kits for 1×4, 2×2 and 2×4 LED panels. An extruded metal frame securely holds the LED panel flush against the ceiling. The 4-piece interlocking frame is screwed directly into the ceiling, eliminating the need to cut into the surface. Ideal for hotels, meeting rooms, hospitals, factories, schools, offices, community facilities, etc. How to install LED Panel Light Ceiling Frame Kit

 
 

LED Low Bay Square Canopy

Featuring, Die Cast Aluminum construction; 6 Year Warranty; DLC qualified product listing, IP65 Rated, Replaces existing HID & HPS canopy or parking garage fixtures up to 250W; Available in 28W/40W/60W/90W. Prices start at $175

 
 
Ceiling lighting is an essential aspect of any interior design, providing both functional illumination and aesthetic appeal. One popular choice for ceiling lighting is drop ceiling lighting, which offers versatility and style. In this article, we will explore different types of drop ceiling lighting fixtures, including troffers, panel lights, LED flat panels, and backlit options. Additionally, we will discuss the growing trend of tunable selection in ceiling lighting.
Troffers are a common type of drop ceiling lighting fixture that is widely used in commercial spaces such as offices, schools, and hospitals. These fixtures are typically rectangular in shape and fit into a grid system of ceiling tiles. Troffers provide uniform and efficient illumination, making them an excellent choice for large areas that require bright lighting. They are available in various sizes – 1 x4; 2×2 and 2×4 – and can accommodate different types of lamps, including fluorescent and LED options.
Panel lights are another popular choice for drop ceiling lighting. These fixtures consist of a flat panel that is suspended from the ceiling, creating a sleek and modern look. Panel lights are available in different shapes, such as square and rectangular, and offer a wide range of color temperatures to suit various design preferences. LED panel lights are energy-efficient and long-lasting, making them a cost-effective choice for both residential and commercial applications.
LED flat panels are a more advanced and innovative option for drop ceiling lighting. These fixtures feature a thin, flat design and use LED technology to provide high-quality illumination. LED flat panels offer several benefits, including energy efficiency, long lifespan, and superior light output. These edge-lit panels are available in different sizes and can be dimmable, allowing users to adjust the lighting intensity according to their needs. Note: Should your application require a surface mount panel, there are flush mount kits available. 
Backlit ceiling lighting fixtures are a unique and eye-catching option for creating a dramatic effect in any space. These fixtures feature a translucent panel that is illuminated from behind, creating a soft and diffused light. Backlit fixtures are commonly used in areas where a subtle and inviting ambiance is desired, such as restaurants, hotels, and residential spaces. They come in various shapes and sizes, allowing for creative and customized lighting designs.
In recent years, tunable selection has emerged as a significant trend in ceiling lighting. This technology allows users to adjust the color temperature of the light, ranging from warm to cool tones and to adjust the wattage of the fixture from low to medium to high. Tunable selection offers the flexibility to create different moods and atmospheres in a space, making it ideal for applications such as offices, hospitality, retail, and healthcare. It has become increasingly popular as people recognize the impact of lighting on productivity, comfort, and the environment.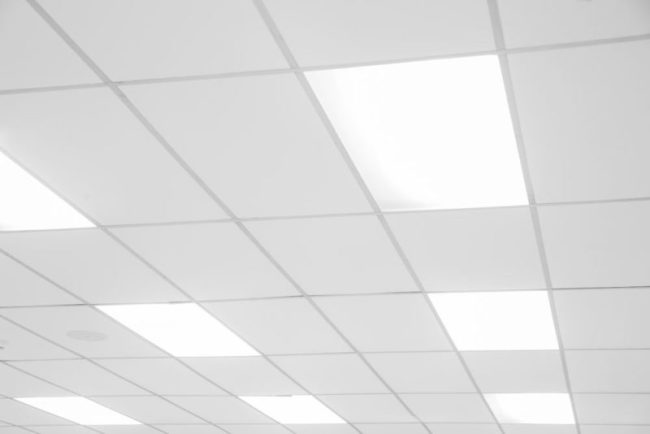 FAQs About Drop Ceiling Lighting Fixtures
Drop ceiling lighting fixtures, flat panels, and troffers are a versatile type of lighting fixture that can be used in commercial, industrial, and residential spaces. They are often used in offices, schools, and hospitals, as well as in homes.
Q1. What are the benefits of using drop ceiling lighting fixtures?
A1. Drop ceiling lighting fixtures provide many benefits. They are easy to install, inexpensive, and help to provide uniform lighting coverage. They are also great for hiding wires and other elements of the lighting system. Additionally, drop ceiling lighting fixtures are often more aesthetically pleasing than other types of lighting fixtures, and they can help create a modern and sophisticated look for any space.
Q2. What are the different types of drop ceiling lighting fixtures?
A2. The most common types of drop ceiling lighting fixtures are recessed flat panels, surface-mounted troffers, and suspended linear fixtures. A recessed flat panel is a flat panel that is inserted into the ceiling grid and secured in place, while a surface-mounted troffer is a rectangular box that is attached to the ceiling grid with brackets. Suspended linear fixtures are linear strips of lighting that hang from the ceiling grid.
Q3. How much do drop ceiling lighting fixtures cost?
A3. The cost of drop ceiling lighting fixtures can vary greatly depending on the type of fixture and the number of fixtures needed. Generally, recessed flat panels and surface-mounted troffers are more affordable than suspended linear fixtures. On average, a single recessed flat panel can cost anywhere from $50 to $150, while a surface-mounted troffer can cost roughly $100 to $400. Suspended linear fixtures can cost anywhere from $200 to $900.
At LED Pros Worldwide we aim to make conditions safer for all involved. We have many industrial lighting fixtures that you can select from that meet or exceed the standards that exist today so that you can outfit your facility with whatever you may need. Look at the selection we have available on our website so you can see what fits your business the best. We provide thorough descriptions and product specifications for you so you can understand what each fixture offers. If you have any questions or you would like a price quote or want to place an order with us, please call us toll-free at (844) 533-7767 and speak with one of our representatives. We will be glad to assist you and offer you any recommendations you may need so you get the safest lighting.
Should You Hire A Pro to Install Drop Ceiling Lighting?
Drop Ceiling Lights A Better Alternative

By Steven Wilson – Published on: April 05, 2013
Buy Direct and Save $$$ – All of our lighting fixtures ship factory direct to your facility. Call sales toll-free (1-844-533-7767)