All In One Solar Flood Lights are commercial and industrial grade powerful outdoor solar LED flood lights, providing illumination to remote areas and any other location that lacks a traditional power source – parking lots, courtyards, landscapes, pathways, bicycle lanes, park playgrounds, solar billboard lighting, and corporate campuses. These solar lights can operate for up to 8 hours at a time without needing to charge and can operate at full brightness for 4 hours. For more solar lighting, see Solar Powered LED Lighting Systems
Call for pricing today toll-free 1-844-LED PROS (1-844-533-7767)
Solar Flood Lights

Solpad by Soltech

compact, integrated solar flood; features 3 operating modes that are programmable via remote control or controls on the fixture; Photo and motion sensors, wide-angle 180° detection; large battery capacity of 7200mAh; available in 10W. Prices start at $

 
 

Cosmos by Soltech

Highly Versatile Design; The easiest way to bring lighting to both indoor and outdoor applications; offers a two-piece design extending the solar panel from the light module up to 11.3 ft; available in 20/50W. Prices start at $

 
 

Cegonia by Soltech

Super Cold-Tolerant; features a 360-degree downward light disbursement; and a 270-degree rotating solar panel and rotating light engine; 6,000 lumens @ 30W; BAA version available, please specify; Prices start at $

 
 

Flux by Soltech

features a 360 adjustable solar panel bracket and a 270 adjustable light module. Adjusting the solar panel angle maximized solar collection & allows snow and other build-ups to slide off; Designed for round pole and wall pack applications; 6/20W; Prices start at $

 
 

Soltab by Soltech

a most flexible solar floodlight; features a double-sided solar panel; a power bank that can be used with portable electronic devices; The LED floodlight can be disconnected from the solar panel to allow maximum portability and convenience. The light features both constant light modes and sensor modes; available in 10W. Note: if your application call for a smaller unit, see All In One Solar Spot Lights; Prices start at $

 
 

Warship by Solway

up to 15,000 lumens @ 300W; available in 10/30/50/80/100/200/300W; Prices start at $

 
 
Solar flood lights are a great option for illuminating large areas. They can be used as pathway lighting, sign ligting, uplighting building facades, architectural features, for safety purposes, or outdoor decorations. These commercial-grade solar flood lights have become increasingly popular due to their numerous benefits and versatility. With advanced technology and high-quality construction, they provide reliable and sustainable lighting solutions for a wide range of applications.
When it comes to security, solar flood lights are an excellent choice. The lights are designed to provide bright and powerful illumination, ensuring that they easily make any potential intruders or suspicious activities visible. Using solar flood lights as security lights can make your property safer without using more energy or increasing your utility bills. With their built-in motion sensors, these lights can automatically detect any movement and immediately switch on, deterring any potential threats.
In addition to security, solar flood lights can also be used for landscape lighting. Whether you want to highlight certain features of your landscape or create a captivating outdoor ambiance, these lights can do wonders. Use solar flood lights in your garden to highlight trees, shrubs, or architectural elements for a beautiful look. You can adjust these lights to change the direction and brightness of the light. This allows you to create the lighting design you desire.
Pathway lights are another popular application for commercial-grade solar flood lights. You can install these lights along walkways, driveways, or any other outdoor pathways to provide safe and well-illuminated routes.
Solar flood lights offer bright and dependable lighting. They assist people in safely navigating your property and decrease the likelihood of accidents or falls. These lights are good for the environment and save money. They use solar power during the day and store it in batteries for use at night.
One of the key advantages of commercial-grade solar flood lights is their ability to cover large areas effectively. These lights are bright and spread light over large areas, making them perfect for sign lighting, retail businesses, parking areas, or sports fields. The durability and weather resistance of these lights ensure that they can withstand harsh outdoor conditions, providing reliable lighting year-round.
Additionally, solar flood lights offer significant energy savings compared to traditional lighting options. By utilizing solar power, you can reduce your carbon footprint and contribute to a more sustainable future. These lights require minimal maintenance, as they are self-sufficient and do not rely on external power sources. Once installed, solar flood lights operate automatically, charging during the day and illuminating at night, off grid without any connection to a traditional power source.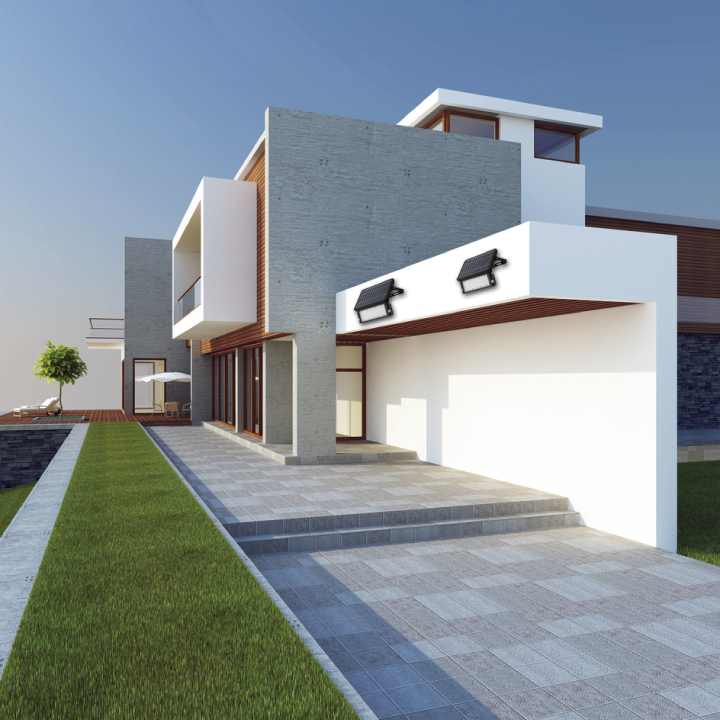 FAQs About Solar Flood Lights
Solar Flood Lights are a great option for commercial applications as they are easy to install and maintain, offer a reliable source of energy, reduce electric bills, and require no wiring or complicated setup. Here are some Frequently Asked Questions about Solar Lights for commercial applications:
Q1: What are the Benefits of All In One Flood Lights for Commercial Applications?
A1: Solar Lights offer a number of benefits for commercial applications. These include reduced electric bills, a reliable source of energy, no wiring or complicated setup, and easy installation and maintenance.
Q2: What Types of Solar Flood Lights Are Available?
A2: There are a variety of solar flood light types available. These include LED, HID and halogen solar flood lights. The type of light you choose will depend on the size and brightness of the light, the area you need to illuminate, and the size of the area you need to cover. see Which Solar Lighting Solutions Will Suit My Industrial Setting?
Q3: Where Can I Install Solar Flood Lights?
A3: Solar Flood Lights are usually installed outdoors and can be used for commercial applications such as parking lots, warehouses, loading docks, outdoor walkways and pathways, and landscapes. See LED Solar Street Lights
Q4: What Is the Lifespan of Solar Floods?
A4: On average, Solar Flood Lights can last up to 10 years or more with proper maintenance and care. The exact lifespan of your solar flood lights will depend on the type of light and the environment in which it is installed.
Q5: Are Solar Floods Expensive?
A5: Solar Flood Lights can be more expensive than traditional lighting solutions, but the long-term savings from reduced electric bills more than make up the initial cost.
Why LED Pros Worldwide? Our main website, Industrial Lighting Fixtures is the marketplace for all commercial and residential LED lighting fixtures. You can use the products in various applications. Whether you want to install them in factories, manufacturing plants, or in your courtyard, our products can be of help. You may request a free quote by calling us here at (844) 533-7767.
Buy Direct and Save $$$ – All of our lighting fixtures ship factory direct to your facility. Call sales toll-free (1-844-533-7767)