Solar Flashing Traffic Beacons are rapid flashing, 24-hour/day warning lights for unlighted vehicular roadways, RR crossings, and bridge abutments which increase driver and pedestrian awareness on the roads and other driving areas. Available in amber (yellow) or red LEDs in s single or dual head configurations, solar traffic beacons are ideal as warning applications in low visibility areas where dangerous conditions or obstructions exist. See All In One Solar Street Lights.
Solar flashing beacons can help draw attention to and highlight new traffic pattern lights, provide extra visibility for sharp curve signs, animal crossing signs, etc and give advance warnings with bright blinking lights for various applications. see Which Solar Lighting Solutions Will Suit My Industrial Setting?
Solar Flashing Traffic Beacons

Solar Traffic Beacons – Single

8″ or 12″ single-head; Can be seen from over 2500 ft; adjustable flash pattern – 12 hrs per day or 24 hrs per day; Features removable solar panel capable of rotation to adjust to the sun's angle; Prices start at $

 
 

Solar Traffic Beacons – Dual

8″ dual-head; Flash 50 times/min; (customization available on request); Visible in both day & night;  Prices start at $

 
 

Solar Speed Limit Sign

Typically installed in areas where vehicles are in close proximity to pedestrians such as school zones, construction zones, residential areas, and college campuses.

 
 

Solar Pedestrian Sign

designed for distribution centers, carparks, truck and bus depots or anywhere where pedestrian safety is a concern.

 
 

10 Ton Solar Road Marker

Solar Road Markers or lane markers are used on sharp corners, pedestrian and traffic islands and dividing lines.

 
 

20 Ton Solar Road Marker

Available in static or flashing modes and visible over 800 meters, the Solar Road Markers or lane markers are a self-contained, rechargeable, LED illuminated marker. Used to reduce speed or signal driver attention to common features, hazards and dangerous curves

 
 
Solar powered LED signs have changed how we use roads and keep drivers and pedestrians safe. They are used for traffic, road, pedestrian, school zone, caution, and stop signs. Solar powered signs are important for managing traffic and saving energy. They are a sustainable solution for modern traffic management.
The benefits of solar traffic signs are numerous. Firstly, they are environmentally friendly as they rely solely on renewable solar energy to power their LED lights. They do not produce greenhouse gases or use fossil fuels. Therefore, they are a clean and sustainable option for signs. This is in contrast to traditional systems. Additionally, the use of solar power reduces energy costs and eliminates the need for cumbersome electrical wiring, making installation and maintenance easier and more cost-effective.
One of the key advantages of solar traffic LED signs is their versatility. You can use them for a wide range of applications, including pedestrian crossings, school zones, caution zones, and stop signs. These signs use bright LED lights or flashing beacons to make sure drivers see any dangers or important instructions on the road. Traffic and road signs must be easily seen in low-light conditions like early mornings, late evenings, or bad weather.
Furthermore, solar powered LED signs offer increased reliability and durability. They are designed to withstand harsh weather conditions, including extreme temperatures, heavy rain, and strong winds. The use of high-quality materials and advanced technology ensures that these signs have a long lifespan and require minimal maintenance.
In terms of cost-effectiveness, solar powered LED flashing traffic signs prove to be a smart investment. The upfront cost is higher than traditional signs. However, the savings in energy and maintenance expenses make it a worthwhile investment in the long run. Additionally, governments and organizations provide rewards and funding to promote the use of solar energy, lessening the financial load.
Another notable advantage of these signs is their ability to be easily programmed and customized. LED signs can display various messages, symbols, and animations, allowing for greater flexibility in communicating specific information to road users. This feature allows traffic authorities to change signs based on traffic conditions or events, ensuring smooth traffic and safety.
In conclusion, solar traffic, road signs, and flashing beacons have revolutionized the way we approach traffic management. Their environmental sustainability, versatility, reliability, and cost-effectiveness make them a superior choice compared to traditional signage systems. As we continue to prioritize energy conservation and seek innovative solutions, solar powered LED signs will play an increasingly important role.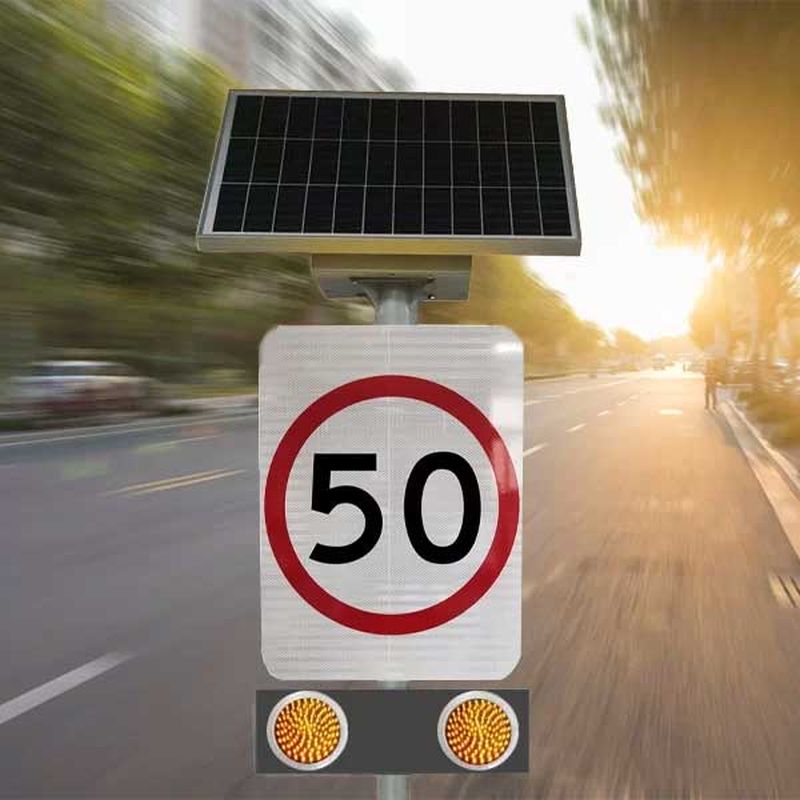 Things To Know About Solar Powered Traffic Signs
Solar-powered traffic, pedestrian signs and flashing beacons can help increase driver awareness of high-traffic and pedestrian-traveled areas. They can help drivers reduce their speed and monitors the roads better, making the roads safer for both pedestrians and drivers.
Solar-powered traffic and pedestrian signs are illuminated by LED lighting and can be set to flash or constantly remain on. They can be visible during both day and night, helping drivers to easily recognize where the high traffic and pedestrian areas are located. In addition, they can be programmed to flash or turn off during certain times of the day to reduce glare for drivers.
Flashing beacons are a type of active warning system that alert drivers of a potentially hazardous situation such as a pedestrian crossing or an upcoming stop sign. They are typically used in intersections and school zones to draw attention to drivers. They can be solar-powered or powered from traditional sources such as the grid.
By using solar-powered traffic, pedestrian signs and flashing beacons, drivers can be more aware of high traffic and pedestrian-traveled areas. This increased awareness can potentially reduce the number of accidents and make roadways safer for drivers and pedestrians alike.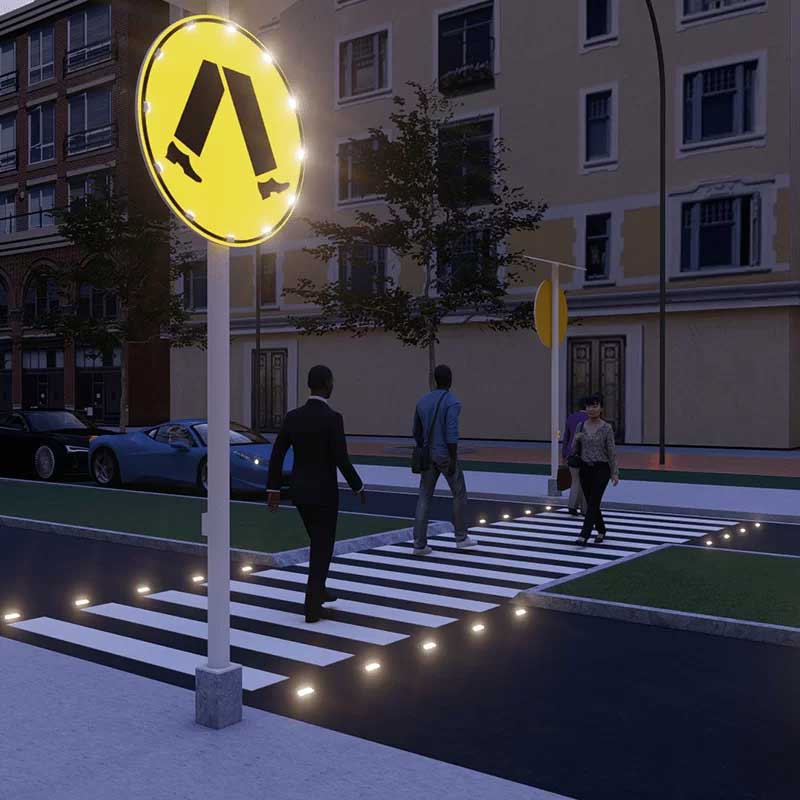 Why LED Pros Worldwide? Our main website, Industrial Lighting Fixtures is the marketplace for all commercial and residential LED lighting fixtures. You can use the products in various applications. Whether you want to install them in factories, manufacturing plants, or in your courtyard, our products can be of help. You may request a free quote by calling us here at (844) 533-7767.
By Steven Wilson First Published June 1, 2021
Buy Direct and Save $$$ – All of our lighting fixtures ship factory direct to your facility. Call sales toll-free (1-844-533-7767)